As a homeowner, garage door maintenance may not be on top of your to-do list, but it's still an essential task. You use your garage door and opener daily, so it makes sense to take good care of them. This post looks at the importance of residential garage door maintenance and shows you what you can do to ensure your residential garage doors stay safe and in working condition.
Why is Residential Garage Door Maintenance Important?
Your family's safety is paramount and perhaps the number one reason to service and maintain your garage door. A residential garage door is easily the largest moving component of your home. So it's crucial to make sure it's operating safely.
Your garage door stands between you and the outside. When it's working correctly, it will keep out intruders. Regular servicing can make you feel at ease knowing that your stuff, friends, and family are safe and secure. Preventative maintenance also helps you stay on top of minor issues before they become costly problems. By servicing your doors regularly, you can arrest issues before they become a problem for your family.
You eat a balanced diet, exercise daily, and generally pursue a healthy lifestyle to live long. Same with your doors. They require regular servicing and care to prolong their lifespan. When you schedule an annual service, you're preserving the functionality of your new garage doors.
Garage doors still require servicing to ensure trouble-free operation even with regular use. Loose bolts, lack of lubrication, and unaligned tracks can all prevent your doors from opening and closing smoothly and lead to wear and tear. You and your family members might have difficulty operating the garage door. Regular maintenance allows you to operate your door smoothly and safely.
Ways to Maintain your Residential Garage Door
If you want your garage doors to remain in top shape and offer you uninterrupted services for years, do the following: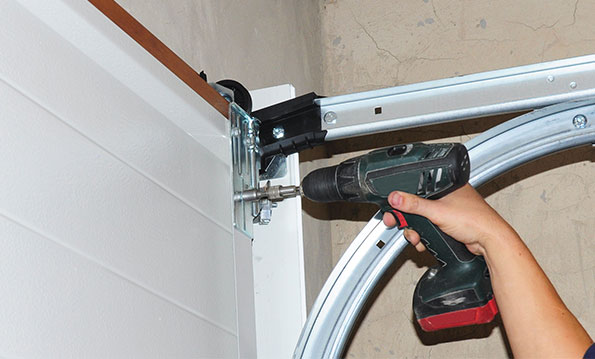 Clean the Tracks of your Garage Doors
Dry leaves, grease, and dirt can accumulate along your tracks and block the door's path, potentially causing damage. Vacuum up the dry, loose debris, then clean the entire surface with a damp rag. You can remove grime using a grease cleaner and an old toothbrush.
Lubricate the Hinges and Rollers
Garage doors move up and down, hundreds if not a thousand times. Lots of movements mean lots of friction. To ensure your garage door operates smoothly and quietly, lubricate moving parts like the hinges and rollers with lithium grease at least once a year. Annual lubrication can reduce friction that could cause door parts to wear out.
Check for Any Loose or Broken Parts
A typical garage door moves up and down several times a year, and the motion and rattling can cause the door and track hardware to become loose. Check the door fasteners and the brackets holding the door tracks to the wall and ceiling to ensure they are secure, then use a wrench to tighten any loose bolts.
Inspect the Springs to see if they need replacing
While the door is closed, check the torsion springs or extension springs for signs of rust, wear, or fragility. Lubricate your door springs if you hear any squeaking sounds. If the sounds persist, it could signify a serious problem. So, contact your garage door service quickly.
Add a Garage Door Sealant to Prevent Water from Getting Inside
Water and cold outside air can into your home through the garage door. Weatherstripping your garage doors can prevent occasional leaks and draughts. If your door has no seals or the existing seals are defective, we can help you install or replace the seals around the four edges.
Check the Door and Opener for Alignment and Safety
A door that's out of balance can cause strain to your opener and potentially affect how other parts work. Pull the release handle and manually open the door halfway to check the door's balance. If the door doesn't stay in place, it means the springs are unbalanced. Call our professionals to fix it.
Test All of the Openers to Make Sure They're Working Properly
Automatic garage doors usually have sensors that detect if something is in the way before the door shuts. These components act as a safety feature and can reverse the door's direction. If your garage door is out of balance, the openers will have to work harder. To test the auto-reverse function, place an object right on the ground in the door's path. If the door doesn't automatically reverse, the sensors might be misaligned, or the garage door motor malfunctions. Either way, we can replace the faulty opener with a new model.
Why Work with a Trusted Garage Door Maintenance Company in Utah County
Broken or split torsion springs are complicated and dangerous to repair. That's not to mention garage doors are heavy, and handling a repair is not a typical DIY job. Protect your loved ones by letting a professional garage door company care for any maintenance or overdue maintenance.
Even with the best tutorials or self-help guides, you may not be able to pull off a successful garage door repair. You will always be edgy about what to do and what to not, which can slow you down. There's always a good chance that something will malfunction or be off with your garage door installation, which can lead to a major problem again, leaving you and your home as well as assets vulnerable. By spending a little more on professional garage door services, you can ensure repairs are 100% successful, and your home is better protected.
A professional like Power Garage Doors can also offer you a price guarantee and do an excellent job; your garage door needs. So you can save money with your broken spring repair job or any issue that needs expert attention.
Keep your Garage Door in Shape with the Help of the Leading Garage Door Company in Utah County!
At Powell Garage Doors, we have the skills and experience to repair or service any residential Utah garage door. Whether the door tracks are out of alignment or the hinges are broken, we can quickly diagnose and fix the problem. We will always recommend the right solution, so you are assured the problem is solved. In addition, our garage door repairs technicians have the right tools for the jobs. That means we can work quickly on your overhead door and get the work done right the first time.
Your garage door's lifespan also depends on how someone handles the repairs or performs maintenance. You're always assured of quicker and cost-efficient repairs with our expert door technicians. Our professional repairs often lead to better outcomes, which adds years to your doors. As a trusted door service, we have the best price guarantee and give our customers a labor warranty they can depend on when something goes wrong.
Want to Perform Garage Door Repairs? Hire a Reliable Garage Door Service
At Powell Garage Doors, we repair any broken garage door and remotes, as well as automatic gates and accessories. We have been serving Utah County and surrounding areas for many years. Our servicing team comprises highly qualified technicians with years of experience. Not only are they trained to repair and service residential garage doors, but they can install a new garage door, regardless of the make or model. Whether you need to fix broken springs or repair the remote control, we guarantee a professional service and the best prices. Call 801-822-2474 to schedule an annual maintenance or to request a free quote today.